Cybersecurity Liaisons Discover Ways To Strengthen Defenses Against Online Threats
OIT News
| Oct 25, 2023 | By Nicole Johnson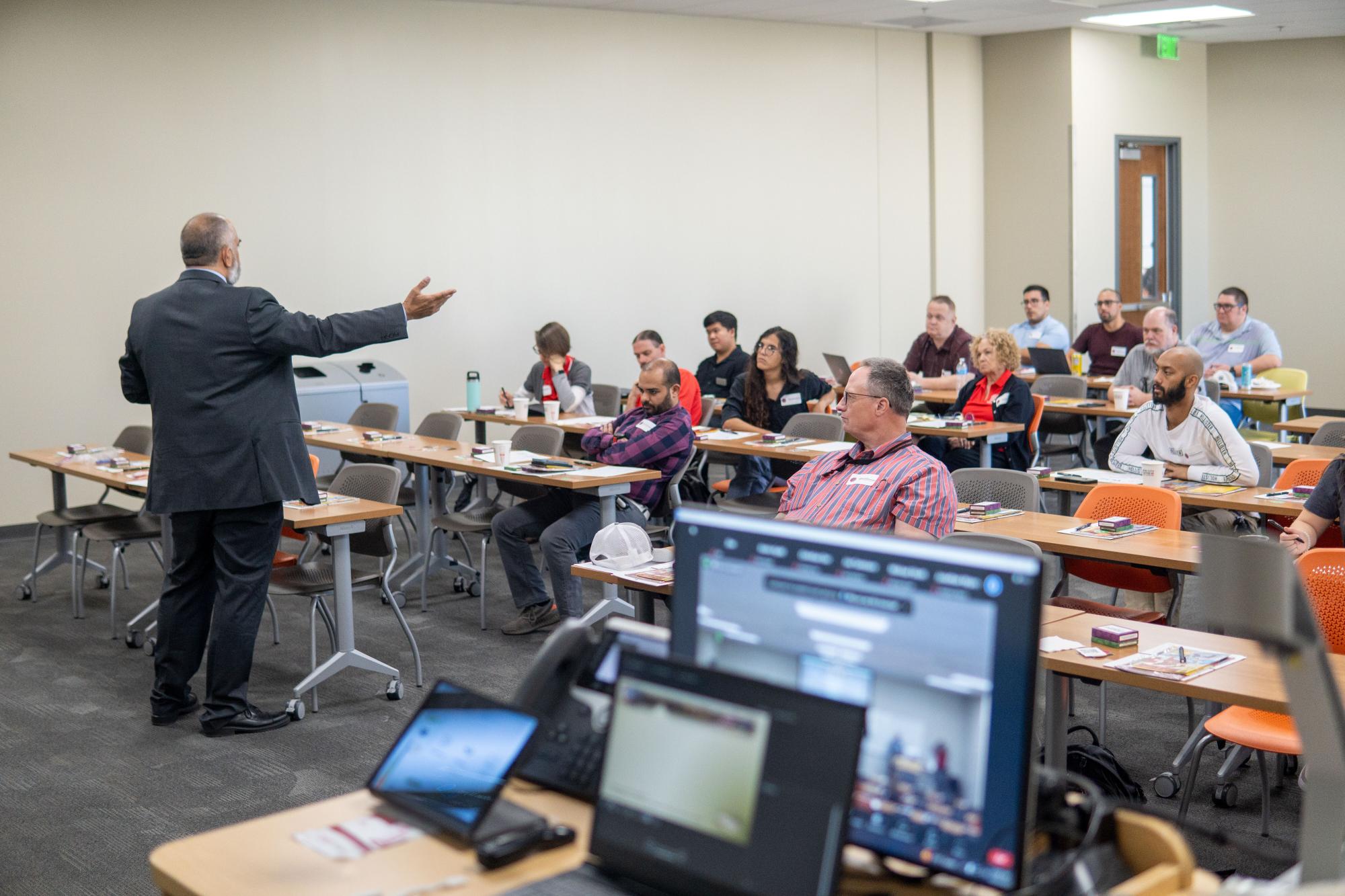 Nearly 40 employees are better prepared to help their peers spot and protect against cyber threats. Their readiness follows their participation in the annual cybersecurity liaison event, which was hosted by the Information Security Office on Oct. 20.
Now in its second year, the event is a culmination of the cybersecurity liaison program's yearlong efforts to foster a strong security culture at UNLV by raising awareness, sharing knowledge, and adopting best practices that strengthen cybersecurity campuswide.
Jefferson Grace, detective with the Las Vegas Metropolitan Police Department's cybercrime team, talked about phishing and other high-tech scams used by cybercriminals to steal a person's identity and finances.
Business email compromises (BEC) are on the rise. According to the FBI's 2022 Internet Crime Report, the scheme is carried out when a hacker uses a compromised business email account for unauthorized fund transfers. In 2022, BEC fraud cost Americans $2.7 billion, the report stated.
These scams can include requests for large amounts of gift cards or payroll redirects, where an employee's paycheck is diverted to a fake bank account after cybercriminals call the victim from a spoofed business phone number to verify fraudulent financial information.
Grace offered participants cybersecurity best practices to protect themselves from online scams. He recommended using a different username and password for each account and using a password manager to store and keep track of all their logins.
He also stressed the importance of multifactor authentication (MFA). It's extra security that confirms a user's identity when logging into their accounts. MFA is already required at UNLV when logging into a number of campus services with an ACE account.
Splunk's Chris Perkins was a guest at the cybersecurity liaison event too. He hosted a trivia game that tested attendees' cybersecurity knowledge for a chance to win a variety of prizes.
Cybersecurity liaisons in attendance represented a variety of units across campus, including Business Affairs, the Office of Information Technology, Office of Faculty Affairs, and Office of Admissions. They are employees who volunteered to serve as their unit's liaison to help raise cybersecurity awareness.
Future cybersecurity liaison events are planned for next year. Campus information security experts said they aim to increase its liaison membership each year. More people advocating for cybersecurity will help build a stronger foundation against cyberthreats.
Employees interested in becoming a cybersecurity liaison can find more information about the program on the UNLV IT site. Multiple individuals from the same department can be liaisons.