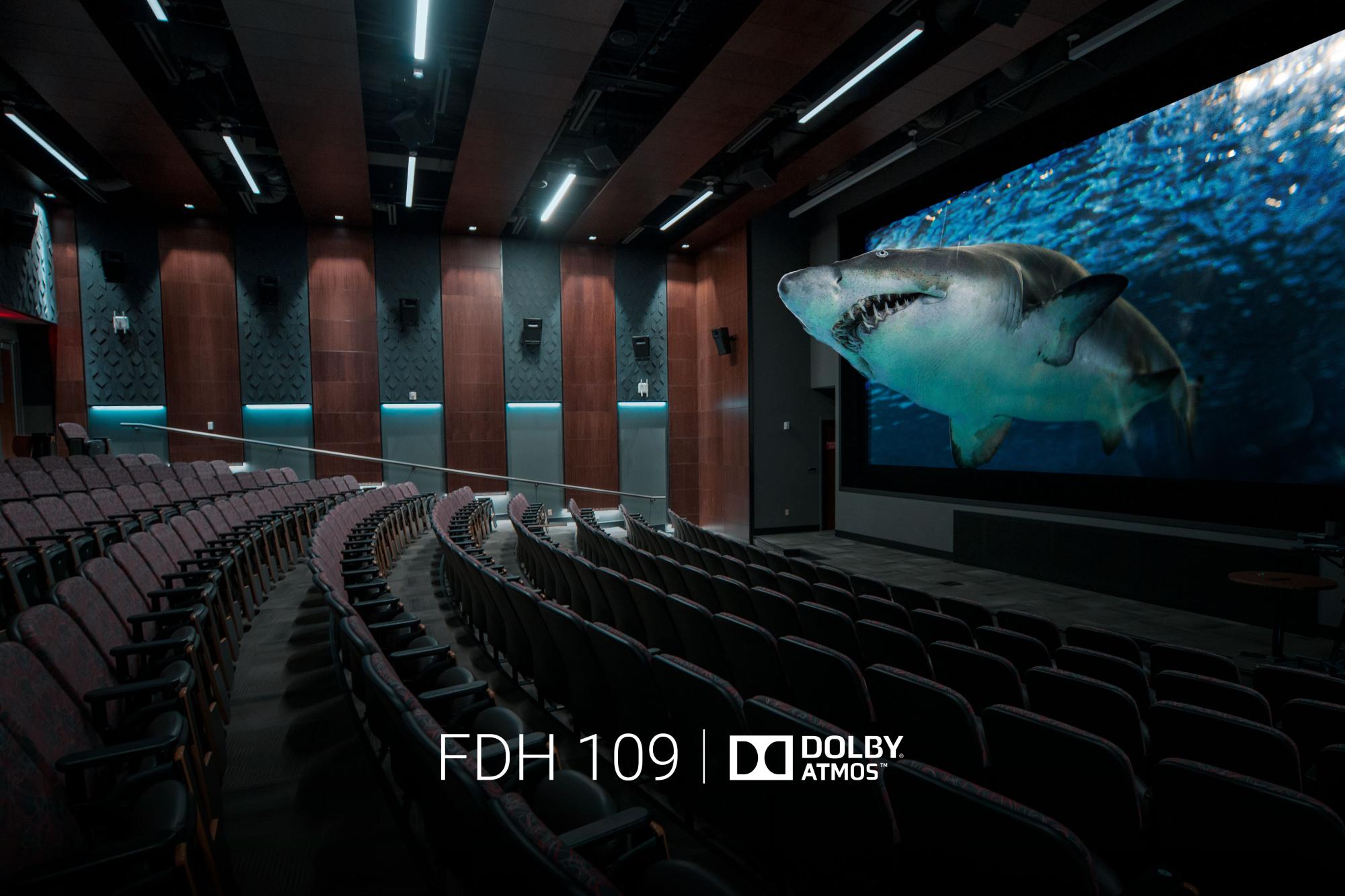 Turns out they did need a bigger boat, or just a high-tech movie theater, depending on how you tell the story.
UNLV is the first university in Nevada to have a Dolby Atmos theater, where film professor Francisco Menendez teaches the next generation of Spielbergs.
A former auditorium in the Flora Dungan Humanities (FDH) building, the 254-seat theater allows Menendez to screen cult classics like Jaws for his students.
The award-winning director, who has been inspiring filmmakers at UNLV for over 30 years, said the theater and its innovative technology provides students with the opportunity to create a full entertainment experience.
"Films are not information. They are an experience," he said. "We teach students to write and direct emotion pictures that allow you to laugh, cry, or be scared, and the FDH theater delivers that immersive experience."
The theater features one of the largest director's choice movie screens at 26 feet long, beating out the great white shark that lurks the waters in the blockbuster thriller by an inch, and can expand or shrink to fit a film's dimensions exactly.
And that is no fish tale.
The space also includes a Dolby Atmos audio system and loudspeakers that deliver a powerful 3D audio experience with lifelike, moving audio that flows around you, according to Frank Alaimo, senior AV systems specialist for the office of information technology.
"Movies really come to life with the theater's immersive sound," said Alaimo, whose classroom technology services team spearheaded the theater project. "The sound comes from above and behind you, giving the sensation that you are a part of the film."
Let's just say anyone watching Jaws in the FDH theater will feel like a frightened beachgoer frantically running to shore after hearing the haunting music of an imminent shark attack.
"Dun-dun. Dun-dun. Dun-dun."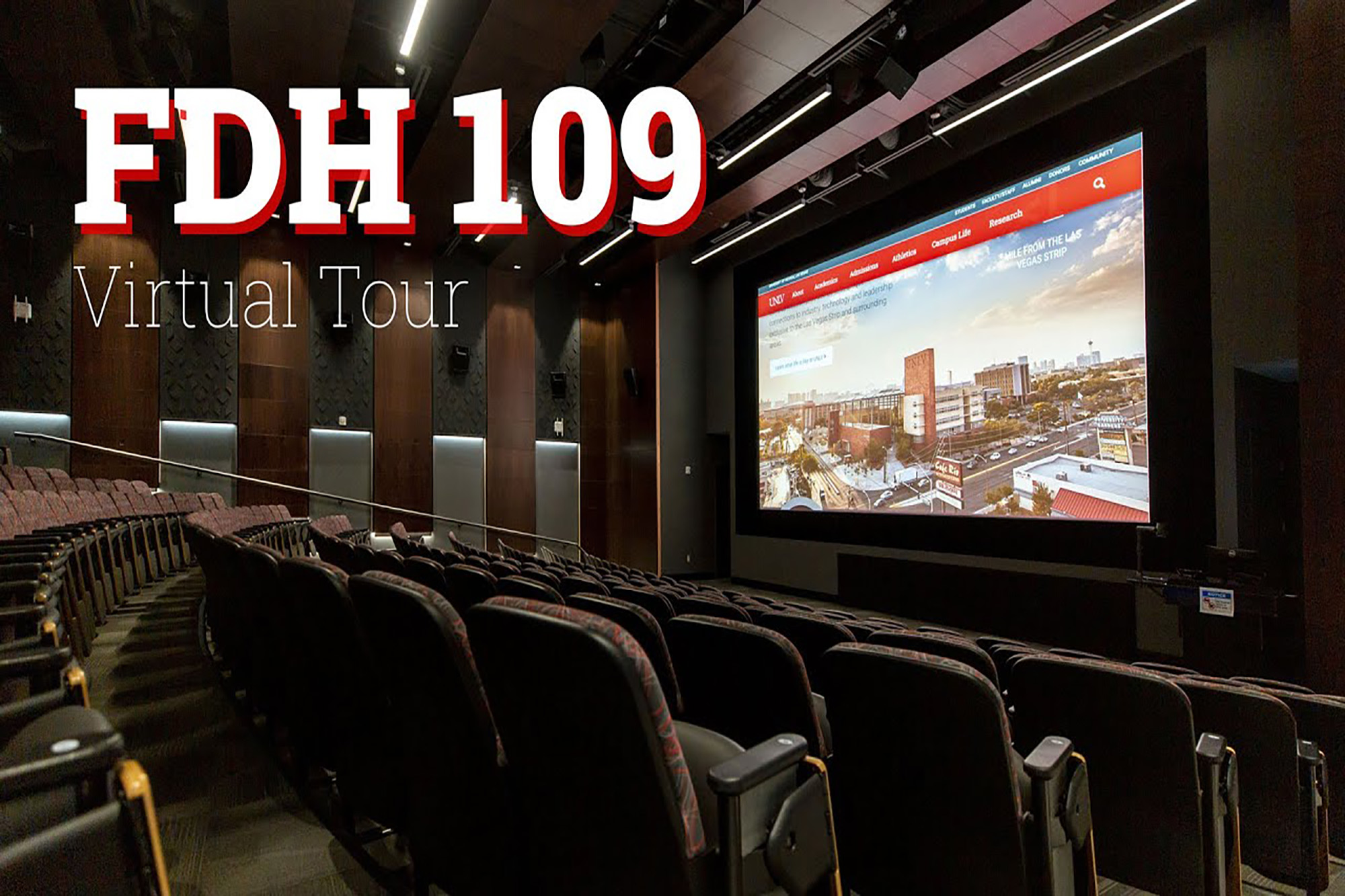 But unlike Jaws, the construction wrapped up on time after 100 days in January 2020, despite challenges that came with converting a 50-year-old auditorium into a state-of-the-art theater and other amenities, which were funded by a grant from the Brenden Mann Foundation.
Menendez said that he was able to take advantage of the room's full capabilities during this past academic year, using it for film playback, script readings, and lectures.
"The theater is a smart classroom too," he said. "Its features offer convenience and ease, where I can record lectures or bring my own device to plug in to watch movies. The multiple microphones also allow us to have several guests for readings and workshops."
With a high-tech cinema projector, the theater let Menendez add motion pictures that use 4K and 3D technology to his curriculum. The film department invested in active wear lenses for a complete 3D experience too, according to Menendez.
"We have the best 3D theater in town due in part to the active wear lenses," said Menendez after he screened Avatar in 3D for his students this year. "They block one eye, then the other to make the brain create 3D imagery."
The FDH theater is similar to Jaws in many ways.
It is revolutionizing the film department like Jaws created the summer blockbuster era, with more undergraduates in the program since 2019. But most notable, the high-tech theater is providing real-life experiences for those who want to make motion pictures like one of Hollywood's greatest directors.
Menendez is set to teach a 10-week James Cameron course sometime this summer. Until then, he's gone fishing.