Rebelmail Will Begin Using ACE Authentication on September 20
Announcement Body
As part of ongoing efforts to consolidate usernames and passwords, Rebelmail accounts (@unlv.nevada.edu) will begin using the ACE account for authentication on September 20. This change does not affect UNLVMail accounts (@unlv.edu) at this time.
What will change:
On September 20, when Rebelmail users sign in from any Google sign-in page (e.g., gmail.com or drive.google.com), they will be redirected to the ACE login page and will need to complete the sign-in process by entering their ACE username (without @unlv.nevada.edu) and password.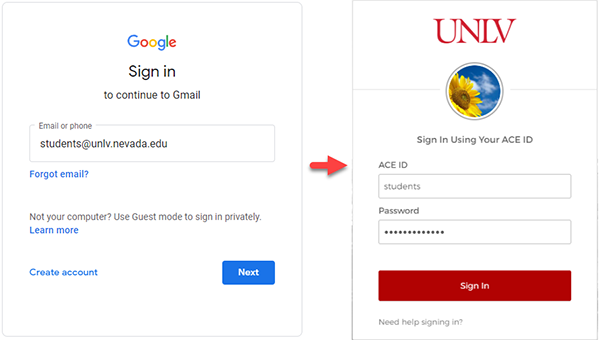 On occasion, users may be prompted to click Continue to verify their account.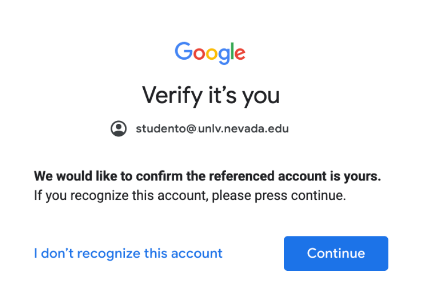 Once logged in, users will not need to log in again to use other technologies that use the ACE account, such as WebCampus.
If users are already logged in to a service that uses the ACE account, such as WebCampus, they will not need to authenticate again to access Rebelmail.
As the new process uses ACE authentication, it bypasses the Google login and Google's 2-step multifactor authentication, if enabled. Customers will no longer receive or be prompted to enter a code issued from Google.
To keep their ACE and Rebelmail accounts secure, we recommend that users enable ACE Multifactor Authentication instead as soon as possible. We hope this change will help make accessing campus technologies easier for our Rebelmail users. UNLVMail will be transitioned to use the ACE account at a later date.
If you have any questions, please contact the IT Help Desk for assistance.