Initiative 12: Enterprise-wide Document Management
Establish a university-wide approach to digital document storage, records retention and secure disposal of archives that will support the University's goal to improve process workflows and increase administrative efficiency.
UNLV is committed to developing services that assist members of the university in accomplishing their work easily, efficiently, and securely. However, a substantial number of business transactions are still done using paper forms and/or electronic documents routed via email. To increase administrative efficiency the university needs to implement enterprise-wide document imaging and electronic workflow solutions that enable staff to:
Electronically capture and store paper documents in a secure and searchable system
Increase utilization of electronic workflows and approval processes to complete business transactions
Track where official documents are the approval process
Ascertain what version of documentation is current
Utilize the information contained in electronically stored documents for current and unanticipated future reporting needs
Meet security requirements for electronically routed information and any accompanying scanned documentation
Comply with records retention requirements
The new enterprise-wide systems must also provide the functionality required to create electronic business transactions that integrate information and documents from multiple campus systems (e.g., MyUNLV, Workday, Digital Measures).
Document imaging
To meet existing needs, several divisions on campus have implemented document imaging solutions for local use (see Table 12-1).
Table 12-1: Current Document Imaging Solutions by Unit
Unit
Document Imaging Solution
Student Affairs - Enrollment & Student Services
Hershey Technologies
Executive Vice President & Provost - Educational Outreach - Summer Term
Image Now
Finance & Business - Controller
Finance & Business - Human Resources
Finance & Business - Delivery Services
Student Affairs - Enrollment & Student Services
Internally Developed System
Advancement - UNLV Foundation
PaperSave
Executive Vice President & Provost - Graduate College
Retrieve X
Finance & Business - Planning & Construction
Faculty Senate
Research & Economic Development - Grants & Contracts
Student Affairs - Enrollment & Student Service
While these solutions have increased efficiency within individual areas, the university needs a unified document imaging solution to address business processes that cross units. Furthermore, many units have been hesitant to invest in document imaging until such time as a campus-wide solution is adopted.
Electronic workflow
The current use of electronic workflow systems across campus is difficult to ascertain. Some of the enterprise-level information systems (e.g., MyUNLV) include workflow functionality for transactional operations done within the system. The new Workday human resources and finance systems are also designed to automate many paper and email based business processes.
Typically the workflow functionality within major transactional systems does not extend to associated transactions that occur outside a particular system. To supplement existing workflows, some units utilize productivity tools (e.g., Adobe Acrobat) to create electronic forms that are then routed for approval via email. Various campus units use different tools and different processes for approval, increasing the learning curves and frustration levels for those engaged in administrative activities across the campus. Additionally, the workarounds used to route university data in the absence of an enterprise workflow solution challenge UNLV's ability to track and secure sensitive data.
The need for enterprise solutions
Support for the continued use of the eclectic mix of existing imaging and electronic workflow solutions is becoming increasingly difficult to maintain and licensing costs are inhibiting expansion. Further, having multiple document imaging and electronic workflow solutions limits the university's ability to leverage the efficiency that can be created by adopting campus-wide solutions.
The need is particularly acute in academic units where few commercial information systems designed to manage the workflow and approval processes unique to academic environments exist. Of particular importance are the business processes pertinent to achieving and tracking several of the Top Tier initiative action items, many of which reside in the Research, Scholarship, and Creativity and the Student Achievement goals. The action items call for a more efficient administrative environment where information can be captured, staged, warehoused, analyzed, reported, and not lost with each academic cycle. Specific examples are provided in Appendix 12A. Additionally, several units across campus have identified specific forms and processes that would benefit from implementation of the enterprise solutions.
Addressing the needs
The transition to enterprise imaging and electronic workflow systems will:
Improve options for broader campus collaboration
Increase productivity
Provide more secure methods of storing protected data
Address several audit and risk management concerns
Comply with records retention schedules
The challenge lies in prioritizing all the document imaging and workflow needs and securing sufficient resources to meet them. The formation of a cross-organizational group to oversee the selection, implementation, and ongoing governance of enterprise imaging and workflow systems is recommended.
Responsibilities for the group include:
Providing guidance on the selection and implementation of the new systems
Creating a timeframe for selection and initial implementation that considers the overlapping resources and full campus involvement required for the iNtegrate 2 Workday implementation
Working with appropriate campus entities to address policy issues associated with document imaging and electronic work flow (e.g., data security, records retention, electronic signatures)
Developing a staffing plan to support the new services taking into account resources needed for: application administration; project management; business process mapping; workflow programming; integration with campus systems; training; end-user support, etc.
Determining costs and establishing a chargeback model for the services
Aligning imaging and workflow projects
Ensuring that data security requirements for the information stored in the imaging solution or moved through the workflow solution are met
Sustaining and enhancing image and workflow services after completion of the initial implementation
Addressing other imaging and workflow issues as they arise
To ensure successful campus-wide adoption, the implementation planning should include two major tracks:
Start-up assistance for units on campus who are new to document imaging and electronic workflow
Transition assistance for units who already utilize imaging and/or workflow solutions
Additionally, the new systems will be a rich source of new data that will need to be addressed as part of the institution's comprehensive data management efforts (see Initiative 13).
Related projects
The Nevada System of Higher Education (NSHE) has three current projects that will impact how the UNLV document imaging and electronic workflow solutions are implemented.
Records Retention – The recently approved NSHE records retention schedule serves as a guide for how long records in the document imaging system must be kept.
Digital Signatures – NSHE has instructed campuses to move to electronic approval processes wherever possible. Work is underway to determine when digital signatures for legally binding documents will be allowed and when traditional signatures will be required. A system-wide solution for digital signatures is being considered.
iNtegrate 2 – The replacement of the current human resources and financial management systems with Workday solutions is expected to improve the workflow for transactions completed within the new systems. However, transactions that involve capturing information from Workday and linking that information to data contained in other transactional systems (e.g., MyUNLV) will require an electronic workflow solution that resides outside of the transactional systems. Furthermore, the new Workday solution does not include robust document imaging functionality.
UNLV also has current applications that could take advantage of new enterprise document imaging and electronic workflow solutions. One example is Digital Measures where faculty activity is tracked. Having a repository of the documents associated with the activity would increase the usefulness of the tool.
IT Master Plan initiative interdependencies
It is recommended that the implementation of new document imaging and electronic workflow begin as soon as possible after the initial implementation of Workday is complete. Planning for the document imaging and electronic workflow solutions can and should occur during the initial Workday implementation. However, the roll-out of the new solutions will require many of the same campus resources as Workday and should be delayed until those resources are available.
Initiative Owner
Chief Information Officer
Consultative Role
Vice Provost for Faculty, Policy & Research
Finance and Business Staff
Associate Vice President for Administration
Associate Vice President for Enrollment and Student Services
Chief Information Officer
Budget Estimate
Cost projections are dependent on a comprehensive procurement process to determine whether:
Two complementary solutions for document imaging and electronic workflow are needed or whether the needs could be met in a single solution
It is more cost effective to implement the software applications and provide associated storage on UNLV hosted hardware or to broker private or public cloud services
Any of the current campus vendors can meet enterprise needs, allowing UNLV to leverage existing contracts
Consequently, the following cost estimates are for planning purposes only:
One-time software, hardware or offsite hosting, license costs - $300,000 to $400,000
Growth in usage new licenses, additional storage (about 25% of initial investment) - $75,000 to $100,000
Annual maintenance (about 10% of initial investment) for hardware, software, licenses - $50,000
Three FTE ($70,000 to $80,000 plus benefits) to support the solution - $300,000 to $350,000
New Positions: 3 FTE; Total One-time and Recurring Costs FY16-FY19: $1,428,159
Action Items to Implement Initiative
Create a cross-functional Document Management Steering Team.
Prioritize document management workflow project requests quarterly.
Align document imaging procedures with state and NSHE legal requirements for business processes (e.g., records retention, electronic signatures, data security).
Manage the interdependencies between the document management initiative and Workday.
Identify resources to support the document management implementation.
Develop interfaces between the document management solution and other major campus systems.
Annually audit alignment of new data generated by the document management solution with UNLV's data governance.
Anticipated Benefits
Expedited business processes.
Reduction in lost documentation.
Reduced paper waste, errors, and time.
Improved ability to search for documents and respond to reporting requests.
Reduced physical storage.
Quicker approval processes.
Increased security for electronically routed data and documents.
Enhanced access to data for institutional decision-making.
Compliance with new records retention schedules.
Measures of Success
Increase in enterprise business processes using the campus document management solution.
Satisfaction with campus document management services.
Increases in the number university documents available electronically.
Increased visibility into the status of documents routed for approval.
Alignment between document management priorities and university strategic priorities.
Document management service requests completed within estimated time.
Contextual Information
Peer Institution Research
George Mason University (GMU) has a service catalog online, accessible at the following website: http://itservices.gmu.edu. The catalog separates the services by category, examples being "Business Applications" and "IT Security." The category titles are user friendly to allow easy exploration by the end user. Completed about a year ago, the catalog allows users to click tabs to categorize the services by category, alphabetically or by constituent (i.e., students or faculty and staff). Central IT plans to assess the value of the catalog via user feedback in the fall of 2013.
Both GMU and Arizona State University (ASU) have Service Level Agreements in place between central IT and their customers, some of which include "fee for service" agreements such as desktop support, while others were drafted with individual customers for server hosting services.
Other relevant research
The OIT at the University of Minnesota delivers a bundle of "common good services" to all units on campus. Services are funded through an enterprise cost pool paid on a per headcount basis by all units regardless of actual consumption. Representatives from campus units collectively determine the composition of the common good service bundle.
Units fund the common good service bundle based on the opportunity for use rather than metered consumption, providing a stable funding base for the central IT organization and creating a financial incentive for unit adoption. Figure #1 illustrates how the University of Minnesota uses a logical screening process for determining which services are best provisioned by central IT and which services are best provisioned by distributed IT.
Figure #1: Determining Common Good Services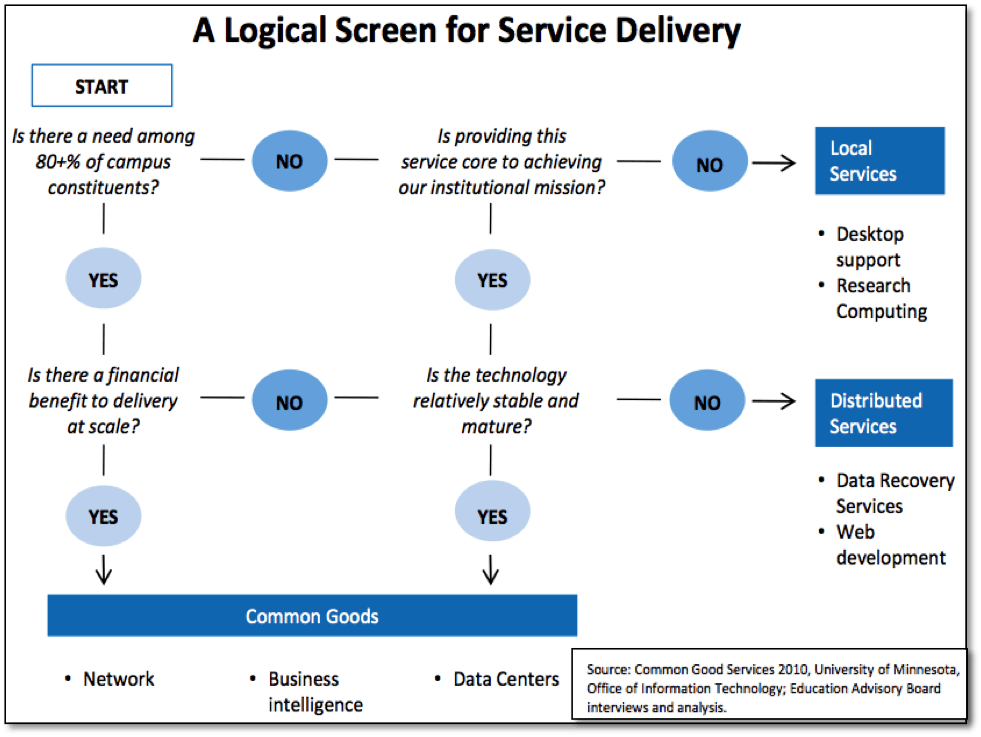 The University of Minnesota offers over 50 Common Good Services and continues to add services to the list. A recent list is contained in Appendix 5B.