Initiative 1: Governance of IT
Establish a governance structure for IT that is informed by representative groups of campus stakeholders. The structure should facilitate decisions and establish priorities that support UNLV's strategic directions and provide an evolving technology vision that maintains alignment with those directions.
A strong technology governance structure is essential for creating an information technology environment able to support a Tier 1 institution. UNLV's need to develop such a structure was a recurring recommendation in almost every IT planning session (e.g., Current IT Environment Report, planning work sessions, conversations with the Strategic Technology Planning Core Team, discussions with campus leadership).
The technology governance structure proposed for UNLV includes a Chief Information Officer (CIO) supported by two new governance groups – the Technology Advisory Committee (TAC) and the Technology Review Board (TRB). The structure is designed to enable the University to assess needs, make decisions, establish priorities, and execute plans in a coordinated and collaborative manner to ensure effective delivery of IT services across the UNLV community.
In the near term, the work of the governance structure includes ensuring that the campus technology vision and associated priorities are aligned with and support UNLV's Tier 1 Initiative and the related Retention, Progression and Completion efforts.
Criteria for Effective Technology Governance
The University utilized the following criteria to guide the development of a technology governance structure that:
Focused on supporting the University mission and overall Strategic Plans
Guided by the UNLV Technology Vision, Core Values, and Guiding Principles
Facilitates informed and timely decision-making
Limits bureaucracy
Fosters stakeholder engagement
Depends on cross-functional participation
Provides a nimble framework that allows for ad hoc working groups as needed
Remains transparent to the entire University community via consistent communications
Gains substantial buy-in and support from the University community
Sponsored by University leadership
The ongoing effectiveness of the structure should be assessed annually using the above criteria. Furthermore, maintaining strategically-determined group membership and continued flexibility will help sustain governance authority and credibility.
Governance Structure
The technology governance structure includes a new CIO who reports to the President and is a member of the President's Cabinet (see Initiative #3). The CIO convenes and facilitates the work of two complementary groups that serve distinct roles in supporting technology governance – the Technology Advisory Committee and the Technology Review Board. The following exhibit describes the structure and membership of the two technology governance groups.
The structure and membership of the two technology governance groups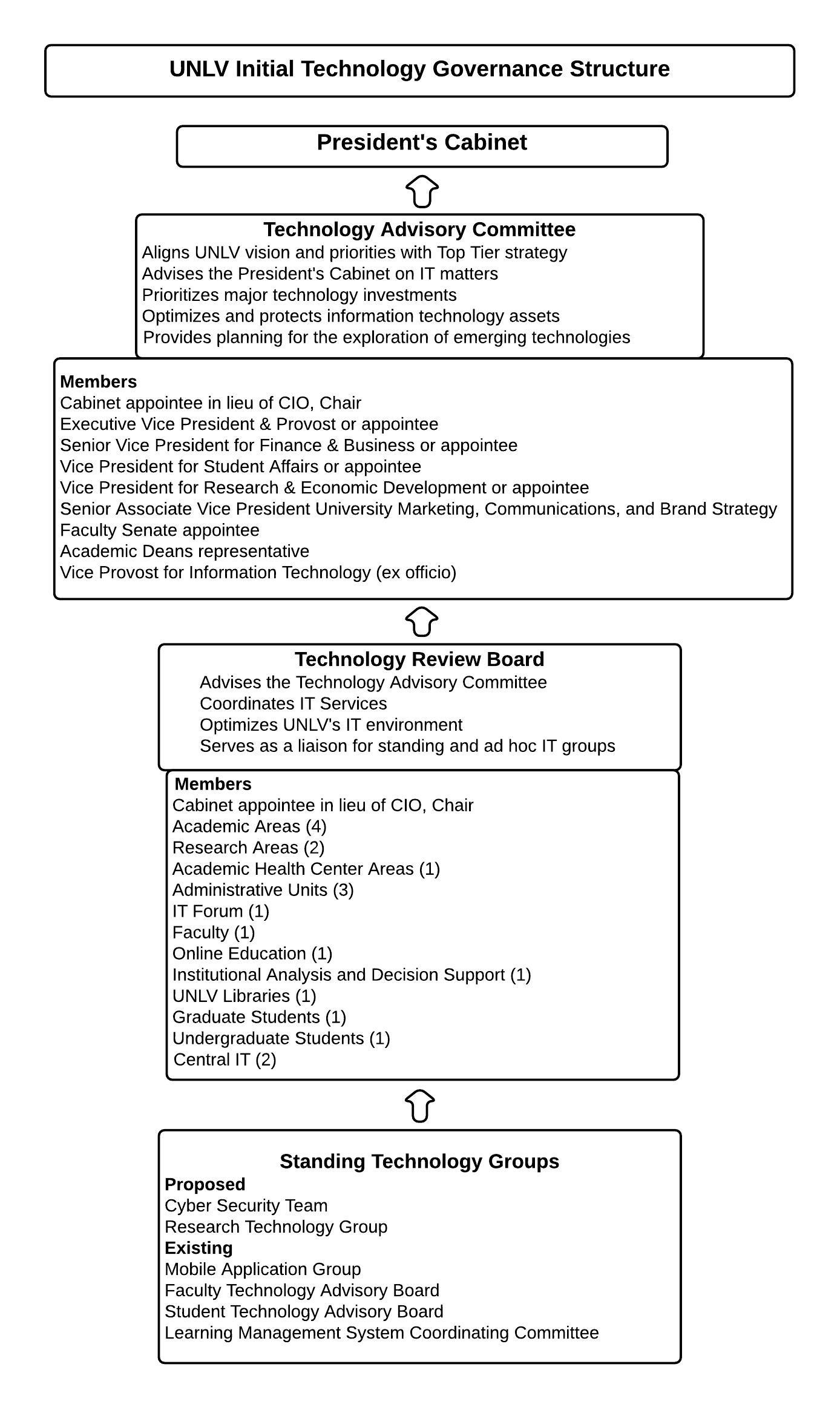 Together the two governing bodies are responsible for decision-making, priority approval, and direction setting for UNLV's IT investment. Their combined efforts are designed to create a cooperative and unified IT foundation to enable the University to meet its research, education, and community partnership goals.
Technology Advisory Committee (TAC)
The Technology Advisory Committee (TAC) is comprised of campus representatives with institutional-wide perspectives on academic, student-related, research, operational, and administrative priorities. The primary responsibilities of the group are to:
Establish a technology vision and set priorities that align with University strategic goals
Advise the President's Cabinet on matters related to technology projects, budgeting, and planning
Prioritize and approve major technology investments
Optimize and secure information technology assets
The TAC reports to the President's Cabinet through the Chief Information Officer who serves as chair and facilitates the work of the group. TAC membership is intentionally small and closely tied to the Cabinet to help maintain a high-level unified vision and keep prioritization closely aligned with University strategy. The TAC provides the IT vision used by the Technology Review Board (TRB) to guide its decision-making. It also provides oversight, approval, authorization, and guides organizational change to support the implementation of TRB decisions. The full membership and a list of charges for the TAC are included in Appendix 1A.
Technology Review Board
The Technology Review Board is comprised of technology specialists from across campus. The primary responsibilities of the group are to:
Provide coordinated IT services designed to support both individual needs and campus strategic directions
Create and maintain a secure, adaptable, cohesive campus-wide core technical environment that can quickly take advantage of current and future opportunities
Serve as the technical advisory group for the Technology Advisory Committee
Serve as a liaison for standing and ad hoc campus and NSHE technology groups
The TRB reports to the Chief Information Officer who serves as chair and facilitates the work of the group. The full membership and a list of charges for the TRB are included in Appendix 1A.
The established technology governance structure is also supported by standing campus technology groups (e.g., Cyber Security Team proposed in Initiative #8) as well as ad hoc working groups created to address specific technology governance and planning needs of the University. The standing and ad hoc groups provide subject matter expertise and assist with TAC and TRB committee charges.
Transparency
The new technology governance structure establishes broad campus representation on two governance committees to ensure a University perspective when technology matters affecting the campus are considered.
The TAC is charged with ensuring that technology governance is transparent, particularly with regard to priority setting and decision-making. Specific action items include:
Regularly updating the campus community on IT priorities and progress on initiatives
Developing mechanisms for participating in planning activities, requesting projects and/or new services, providing feedback, assessing progress, etc.
Ensuring information about technology services and support is readily available and understandable
Creating communication channels tailored to meet the needs of audiences varying in technical knowledge
The TRB also has specific charges associated with transparency including:
Regularly reviewing and updating the campus IT Service Catalog (see Initiative #5)
Providing forums for discussion and resolution of IT service issues
Additionally, the Chief Information Officer provides a single point of contact for other technology issues that fall outside the formal governance structure.
While the CIO position is integral to the strength and cohesiveness of the governance structure, the two governing bodies can make considerable progress prior to hiring a CIO. It is recommended that the President's Cabinet appoint an interim representative to convene and facilitate the technology governance groups until such time as a CIO is hired.
Budget Estimate
The initiative will require a fundamental change in technology planning, strong participation from the UNLV IT community, a change in culture, and the committed involvement of executive leadership. No direct costs are associated with this initiative, but implementation is dependent on hiring a CIO and establishing an associated office. Costs for the CIO office are included in Initiative 3.
New Positions: 0 FTE; Total One-time and Recurring Costs FY16-FY19: $0
Action Items to Implement Initiative
Adopt the recommended technology governance structure.
Communicate the governance model to the University.
Appoint an interim representative to convene and facilitate the Technology Advisory Committee (TAC).
Establish the Technology Advisory Committee (TAC).
Establish the Technology Review Board (TRB).
Establish the newly proposed standing groups (Cyber Security Team, Research Technology Group).
Review standing groups and create ad hoc working groups as needed.
Assist the campus in adjusting to the cultural changes associated with adopting a new technology governance structure.
Create annual goals and a planning calendar for achieving TAC and TRB action items.
Create and implement a communication plan to ensure transparency goals are met.
Annually assess the effectiveness of governance structures and take corrective actions as needed.
Anticipated Benefits
Comprehensive IT planning and management improve technology services.
Improved effectiveness, visibility, and transparency of technology decisions, priorities, and planning.
Increased stakeholder understanding of decisions related to selection, acquisition, development, and implementation of major information systems.
Reduction in costs and complexity through coordinated services and integrated processes.
Increased communication and collaboration within the technology community.
Alignment between technology investments and university strategic initiatives.
Measures of Success
IT governance structure established.
Annual roadmap for implementing Plan action items provided.
Annual progress report on key performance indicators published.
Increased participation by campus stakeholders in IT decision-making.
Better awareness of IT decision-making processes on campus.
Increased satisfaction with IT decision-making processes on campus.
Improved customer satisfaction with technology services.
Annual review of TRB's activities demonstrates success in meeting responsibilities.
TAC's annual review meets criteria for effective technology governance.
Initiative Contextual Information
Peer Institution Research
Variations of the proposed technology governance model have been used successfully in multiple higher education environments. For example, George Mason University's (GMU) governance structure has been in place for nine years. Its model is composed of four main committees (similar to the proposed TRB with standing and ad hoc working groups) that support an Executive Council (similar to the proposed TAC). The other committees work to represent all major voices of the University including the Academic Institution Advisory Committee, Faculty Senate Technology Policy Committee, Portfolio Evaluation/Governance Group, and Architectural Standards.
>Other Relevant Research
Technology governance structures describe who makes which decisions, who provides input and analyzes issues, who sets priorities, and who settles disputes when there is no clear consensus. Good governance processes are actively designed and well understood by participants, and foster timely decisions that are communicated effectively. When effective, the technology governance structure should yield decisions that are aligned with and help achieve institutional strategic goals. Technology governance is focused on the entire technology function across the University and is not intended to replace day-to-day operations.
Source: ECAR Key Findings "Process and Politics: IT Governance in Higher Education" by Ronald Yanosky and Jack McCredie, July 2008. http://www.educause.edu/ir/library/pdf/ers0805/rs/ers0805w.pdf