Meet the growing expectations for mobile access to information and services in a manner that is expeditious, secure, sustainable, and focused on improving university services.
UNLV has substantial work to do to deliver mobile services that are capable of meeting the increasing expectations of university stakeholders and are competitive with comparable institutions. For UNLV to enter the mobile arena in a significant way, the university must commit to developing all aspects of an effective mobile environment. That commitment includes:
Infrastructure for mobile application development, delivery, support, and related services
Mobile access to campus applications
Support for mobile devices both on and off campus
Despite the considerable urgency to provide mobile applications for all university services and extensive wireless coverage, UNLV must develop a mobile environment that builds in security, sustainability, and the capacity for innovation. Instead of attempting to quickly deliver the mobile support currently offered by other institutions, UNLV is well situated to adopt a strategic approach to deliver truly robust mobile services.
Implementing a mobile strategy
A successful enterprise mobile environment needs at its foundation, a well-developed, outcomes-based strategy. The strategy must define how UNLV will:
Fund mobile application development, maintenance, and innovation
Provide mobile access to institutional information wherever possible
Develop a robust mobile infrastructure including related policies and procedures
Institute a mobile application development framework
Clearly articulate security requirements for mobile environments
Adopt a mobile-first policy for application acquisition and development
Implement a well-defined and inclusive mobile application project prioritization process
Add mobile options for existing campus applications
Enhance the UNLV Mobile application
Support the innovative use of mobile devices in achieving learning and scholarly objectives
Incentivize innovative mobile application development by and for students, faculty, and staff
Successful implementation of the mobile strategy requires broad participation from multiple campus units. Consequently, it is recommended that the Technology Advisory Committee (TAC) work with the Technology Review Board (TRB) to develop and oversee implementation of the mobile strategy. The group initially formed to implement the UNLV Mobile application could be utilized to assist with the effort.
Mobile application development
Mobile application development is a component of the broader distributed application development environment at UNLV. The units engaged in application development must be included in transitioning the campus to a mobile-first acquisition and development environment. An inclusive approach must:
Take into consideration the highly distributed nature of application development at UNLV
Provide a flexible application development framework
Facilitate coordination of existing resources
Organize training and professional development opportunities for those seeking to add mobile application development to their skillset
​Establish standards for the creation of enterprise mobile applications
Provide access to mobile application test and production environments
Ensure adherence to information security requirements unique to mobile application development
The mobility-first transformation requires a minimum of three full-time staff to:
Enhance UNLV Mobile
Support webpage mobility efforts
Facilitate more rapid new application development
Support innovation
Assist students and faculty in creating mobile applications
Mobile access to university resources
Discussions with students, faculty, and staff indicate that, whenever possible, campus information should be accessible and commonly used applications should be available on mobile devices. As a first step, the Web Communications Office, the unit that manages more than 90% of the university's top-level websites, redesigned the sites to be responsive (i.e., adapt to different mobile device screen sizes). In addition to delivering responsive web pages, UNLV is also working on delivering mobile applications for some services. UNLV has begun to address these needs one service at a time. See Appendix 11A for a list of currently available UNLV mobile applications.
Recently, as part of a class project, a group of graduate Management Information Systems students conducted a series of assessments to help determine what new functionality should be added to the UNLV Mobile application. Results are shown below:
Figure 11-1: New Functionality for the UNLV Mobile Application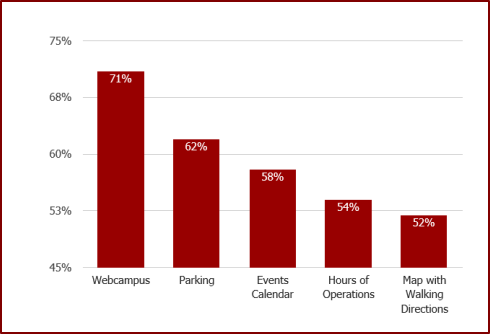 The most surprising finding was that WebCampus and a Map with Walking Directions were on the list. The university provides a WebCampus mobile application, though it is not linked to UNLV Mobile.
Further, UNLV Mobile already has a map with walking directions. In addition to adding new functionality to the application, UNLV needs to focus on a marketing campaign regarding the current application. The results of the class project will be used to continue to enhance the UNLV Moblie app until such time as the new prioritization process called for in the mobile strategy is implemented.
In the absence of that prioritization process, existing resources will continue to be allocated and applications built or acquired to meet a particular need of a particular unit. Individual units have done their best to keep the applications current, add new functionality, and provide support. However, there is duplication of effort, no economy of scale and no clear support model. As the results of the student project indicate, a need for more communication about what current mobile application functionality is already available at UNLV.
Open data initiatives
One method to increase the development of mobile applications that utilize publicly available university data is to follow the example of the federal government's open data initiatives. The government's Digital Initiative has a goal of making public data more accessible by providing the information (e.g., a web application programming interface and metadata tags) that allows individuals, groups, and businesses to create their own mobile applications using federal data that is not privacy protected: (https://www.whitehouse.gov/sites/whitehouse.gov/files/omb/egov/digital-government/digital-government-strategy.pdf).
The federal government has augmented the open data portion of its digital strategy by:
Building an entire infrastructure of inter-agency shared resources to facilitate mobile development
Facilitating collaboration and communication among the growing community of individuals interested in improving digital access to federal information
Leveraging grassroots development through open challenge competitions that offer prizes and/or compelling appeals to civic-minded innovators to develop innovative solutions
Crowdsourcing testing of mobile apps and resources
Although grassroots initiatives similar to those described above would remove some of the application development costs from the university, considerable resources and planning are required to evaluate the sensitivity of data, make the information available in a manner that is easily digestible, and ensure that the new development environments do not negatively impact the performance of university systems.
As UNLV's data management initiative progresses (see Initiative 13), some of these data definition and data management issues will be more easily addressed. However, the TRB and TAC will still need to clarify which applications the university has a commitment to maintain and support, whether developed in a public/private partnership with the university or independently.
Support for mobility initiatives
Mobile devices currently provide access to instruction in the field, curriculum delivery, learning assessments, data collection, field support in a variety of research settings, and access to UNLV resources. To better serve the campus community, the support services for both the most commonly used devices and the most widely adopted mobile applications need to be coordinated.
Protecting the mobile environment
As UNLV determines the best way to support a growing number and variety of mobile devices and mobile applications, resources must be devoted to protecting the mobile environment. Many of the action items included in the Information Security initiative (see Initiative 8) will improve the security of the mobile environment (e.g., identity management, data encryption). However, additional measures must be taken to address the use of university-issued and personal mobile devices that access university information.
Device security is the most challenging. Security efforts must focus on managing access (e.g., requiring passwords for access to university data) and protecting the data stored on the devices (e.g., ability to lockdown access when university-owned devices are lost or stolen). Policies, procedures, and tools to protect the devices and the data they contain need to be developed in consultation with the Cyber Security Team (see Initiative 8).
Building security into the development and management of mobile applications combined with securing information at the application level will provide additional layers of protection. Mobile application development standards that include provisions for access to sensitive data will need to be developed and enforced. Additionally, incorporating the use of the Identity Management system (see Initiative 10) in provisioning mobile applications will help ensure that, when students or employees are no longer affiliated with the university, access to the applications is removed in a timely manner.
Expanding the wireless infrastructure
At the foundation of a successful mobility strategy is a robust wireless infrastructure. Broad coverage, adequate bandwidth, and seamless movement across coverage areas are critical to support the increasing number of mobile devices in use at UNLV (See Table 11-1).
Table 11-1: Changes in Network Connectivity from 2012 to 2015
Network Connections
October 2012
October 2015
% Change
Unique wireless connections per month
36,674
63,959
74.4%
Unique wired connections per month
14,341
15,412
7.4%
Total connections
50,015
79,371
55.6%
Network Authentications*
October 2012
October 2015
% Change
Authentications per day
320,000
618,077
93.1%
* Devices connected via cellular service are not included.
In Fall 2015, over 80% of the devices connected to the network did so through the campus wireless network. The activity on those devices consumed approximately 65% of the campus Internet traffic. Additionally, the bandwidth consumed by wireless connectivity grows about 20% annually.
Approximately 75% of the indoor spaces at UNLV are covered by the campus wireless system. However, most of the coverage was not designed for the current load and does not work under heavy usage. An additional 5% of the indoor spaces have wireless coverage provided by devices installed and supported by the occupants of those spaces. The remaining 20% of the indoor spaces have little or no coverage. Additionally, only about 1% of the outdoor spaces on the campus are covered. For a map of current UNLV wireless coverage see Appendix 11B.
UNLV's project-by-project approach to extend wireless capacity is not efficient or cost effective. It is recommended that UNLV develop a wireless overlay plan that can be used to:
Determine more precisely what is needed to complete the campus coverage
Develop a phased approach to achieving maximum capacity
Ensure there is adequate bandwidth and seamless movement around the entire campus
Provide detailed cost estimates for each phase of the overall plan
In addition to expanding and enhancing the wireless capacity at UNLV, the wireless authentication system needs to be replaced. The current solution was designed when wireless was first introduced to the campus in Fall 2004. The solution has served the university well but will not accommodate the exponential growth in demand for wireless access. A comprehensive wireless authentication solution that integrates with the university's Identity Management system must be purchased (see Initiative 10).
Finally, as the wireless infrastructure matures, it is vital that the architects of that infrastructure continue to add security features that help protect university resources.
Mobility and unified communications
As the campus wireless network is extended, efforts are also underway to enhance cellular phone coverage and related services on campus. Additionally, there are discussions about providing comprehensive unified communications to the campus (e.g., the ability to have email converted into voice messages and delivered to a person's phone or phone messages converted to text and sent to email). As those discussions evolve, additional coordination between data and phone services on campus will be required (see Initiative 14 for more details).
Initiative Owner
Chief Information Officer
Consultative Role
Technology Advisory Committee
Technology Review Board
Budget Estimate
A minimum of three full-time employees will be needed to meet the outcomes expected from the mobile strategy. Estimated costs, not including benefits, are $200,000 annually. Programs to incentivize innovative mobile application development by and for students and faculty require $50,000 annually.
Costs for completing the wireless overlay at UNLV, by year, are estimated to be:
Year 1 - $300,000 - authentication system replacement, site planning, replace aging access points
Year 2 - $2,590,000 - extended coverage
Year 3 - $6,774,091 - complete coverage
One additional staff member (approximately $70,000 plus benefits) is needed to support the expanded wireless environment.
New Positions: 4 FTE; Total One-time and Recurring Costs FY16-FY19: $11,393,514
Action Items to Implement Initiative
Develop and implement a mobile strategy.
Secure ongoing staffing and infrastructure resources to implement the mobile strategy.
Implement a prioritization process for mobile application development and acquisition.
Coordinate support services for commonly used mobile devices and applications.
Increase the number of campus applications with mobile access.
Annually add new functionality to the new UNLV Mobile application.
Update the IT Service Catalog (see Initiative 5) with information about mobile versions of campus applications.
Provide incentives for broad participation and innovation in the development of mobile applications.
Develop security standards for mobile application development at UNLV.
Replace the current wireless authentication solution.
Develop a wireless overlay plan to include overall costs and a phased approach for implementation.
Expand wireless access to cover all indoor and outdoor spaces on campus.
Anticipated Benefits
Enhanced communication with students in support of retention efforts and better customer service.
Increased mobile access to UNLV information and services.
Well-marketed, accessible, and supported UNLV mobile applications.
Secure mobile access to university resources.
Seamless indoor and outdoor wireless coverage.
Mobile innovation that fosters student success.
Enhances UNLV's reputation as a vibrant institution.
Measures of Success
Increase in the number of university applications with mobile options.
New functionality added to the UNLV Mobile application.
Improved customer feedback on usability and functionality of mobile services.
Mobile policies and procedures are used to protect UNLV's brand and data.
Favorable security audit findings regarding the mobile environment.
Growth in the number of mobile applications developed with innovation funds.
Reduction in IT Help Desk calls regarding wireless services issues.
Increased percentage of indoor and outdoor areas with adequate wireless coverage.
Contextual Information
Peer Institution Research
Arizona State University (ASU) has invested heavily in mobility. The institution provides mobile access to a diverse set of university resources (e.g., student information system, maps, directory, library, news, athletics, campus life, events and calendars, future students, colleges and schools). ASU also builds device-agnostic applications to provide a wide range of device usage and functionality in a mobile environment. See http://m.asu.edu for more information.
At ASU, campus-wide wireless connectivity is estimated to be at or near 100%. Overall, the campus struggles more with capacity than coverage. ASU is in the process of upgrading all access points to the latest 802.11N capability. The University continues to add capacity as needed, but it is a never-ending project as more and more devices are wireless capable and are being brought onto the network every day.
At the University of Oregon (UO), a student in the Applied Information Management master's program focused his thesis work on the pros and cons of developing an institution-wide Bring Your Own Device (BYOD) policy. The study identified factors for consideration when developing institution-wide strategies to address the use of personally owned mobile handheld devices in higher education environments. Topics included: policy creation, data security, user education and mobile learning. The document is a rich source for information to help guide both strategy and policy development and is available at: https://scholarsbank.uoregon.edu/xmlui/bitstream/handle/1794/12254/Emery2012.pdf
Other relevant research
Excerpts from a Campus Technology article entitled, "Go Mobile or Kiss Future Students Goodbye," highlight the importance of mobility in a student's decision about which college to attend. The article reports that:
70% of college-bound high school students look at college websites on mobile devices
43% of students use their mobile devices almost exclusively to go online
73% expressed interest in institutions that offer campus-specific mobile applications
The article also includes details about the mobile strategy and the benefits of its implementation at Indiana State University (ISU). The article reports that ISU:
Has successfully moved mobile recruitment and admissions to the forefront
Believes that giving prospective students the capability to consume key information about their university from any device, at any time, will create a positive brand experience
Has a goal to make their critical and top-level services accessible from a mobile device through either a mobile application or a mobile website
Made mobile-first design a part of their strategy to better serve their customers
The complete article can be found at: http://campustechnology.com/Articles/2013/09/12/Without-Mobile-First-Strategy-Kiss-Students-Goodbye.aspx?=CTMOB&p=1