Initiative 6: Sustaining Technology Investments
Sustain both distributed and central IT investments, optimize technology refresh cycles, leverage technology standards, and support the introduction of new and emerging technologies. Design funding models to support a strategic approach to sustaining technology.
Significant investment in new technologies and a solid technology foundation will be required to support many of the Top Tier initiatives (e.g., Retention, Progression and Completion, UNLV School of Medicine, the influx of new faculty, additional research programs, etc.). Sustaining that investment is critical to the long-term success of Top Tier. UNLV must develop a comprehensive strategic approach to sustaining technology investments. The approach must include mechanisms to:
Renew critical network, server/storage, and wireless infrastructure
Systematically refresh end-user devices
Sustain new investments
Adopting a new approach, while challenging, will:
Ensure services are delivered on modern, reliable, secure, vendor-supported IT infrastructure that minimizes the likelihood of service disruptions
Support timely, cost-effective, need-based expansion of services (e.g., speed, capacity, new investigators, video)
Optimize interoperability
Ensure students, faculty, and staff have access to the technologies they need to excel in their university roles
Include sufficient standardization to support collaboration across units
Provide the flexibility to adapt to emerging needs and specialized services
Facilitate adoption of new technology
Support innovation and experimentation
Optimize infrastructure purchases to address multiple needs and reduce hidden costs
Free IT personnel to redirect time spent sustaining equipment that has exceeded its lifespan to focus on providing services that improve student success, teaching, and research
Current environment
The 2013 Current Information Technology Environment Report indicated that outdated equipment and a lack of coordinated planning for new acquisitions are impacting the university's ability to deploy, support, and utilize both existing and new technology. Furthermore, students, faculty, and staff reported that the challenges created by aging equipment, lack of standardization, lack of integration between existing and new systems, and insufficient support discouraged them from adopting unfamiliar or new technology.
Critical Enterprise Infrastructure
By 2015 a substantial decrease in one-time funds allocated to technology had further intensified the needs highlighted in the 2013 environment report. Three enterprise infrastructure environments were at risk - the campus network, the server and storage environments, and the wireless deployment. In response to the risks highlighted in an early draft of the IT Master Plan and other detailed reports, UNLV leadership approved a multi-year, multi-million dollar plan to create a Top Tier infrastructure using a combination of one-time funding and donations.
Network - In 2015 over 88% of the campus network infrastructure had reached end-of-life. The ability to add additional connections to the network was diminishing making it impossible to support wireless expansion, campus growth and new health and safety systems. The aging network was not designed to allow unique pathways that can help protect the most sensitive campus information, move large amounts of data, and/or allow uninterrupted connections for investigators accessing resources off campus. In Fall 2017, as the IT Master Plan was released to campus, UNLV entered year-two of a four-year plan to re-architect and rebuild the network to support a rapidly growing Top Tier university. Many of the largest and most crucial components of the network re-architecture plan have been completed. A new state-of-the art network core, modern routers and replacement of thirty-year-old network fiber between buildings has removed many of the risks highlighted in 2015. Specialized research needs, new campus buildings and plans for wireless expansion can now be accommodated. Work will continue over the next two years to ensure all buildings have reliable network infrastructure that can support wireless and other emerging demands.
Servers/Storage - In 2015 over half of the server and storage environments were end-of-life or approaching end-of-life within two years. Additionally, over one third of the server infrastructure and half of the storage infrastructure had reached capacity. The growing demand for more servers and increasing storage capacity required additional equipment that was costly and difficult to accommodate in the current space. The campus data centers also did not have the cooling or power necessary to support newer, more efficient equipment. Interim measures were taken to expand UNLV data center, server and storage environments to meet essential needs. Additional plans are underway to further extend data center services through a co-location agreement with Switch.
Wireless - In 2015 approximately 30% of the indoor spaces and 80% of the outdoor spaces had no wireless at all. Seventy-five percent of the existing wireless access points were end-of-life and the infrastructure had insufficient capacity to support the growing number of wireless devices on campus (65,000 wireless device connections per month). A complete wireless infrastructure redesign to provide appropriate coverage in all indoor spaces and high-utilization outdoor areas is part of the Plan. The wireless access points for this campus-wide coverage are part of a four-year multi-million dollar equipment donation by Cox Communications. The university has allocated funding for installation and underlying infrastructure improvements required to support the expanded wireless infrastructure.
While a four-year plan is underway to address the critical infrastructure needs identified in 2015, these replacements have largely been accomplished with one-time funding, augmented by generous donations and community partnerships. Sustainable funding for equipment maintenance, expansion and future replacement should be a priority for the new IT governance committees. More details are contained in Appendix 6B.
Commonly Used IT Assets
Many of the devices students, faculty, and staff utilize for their daily activities have also reached or are approaching end-of-life. In 2014 UNLV had over 16,000 information technology assets (e.g., computers, servers, switches, printers, tablets, projectors, digital displays, etc.). Information about the most commonly used technology assets in that 2014 survey is included in the figure below.
Figure 6-1: Number, Age, and Status of Commonly Used IT Assets at UNLV

| Age | Computers & Servers | Printers |
| --- | --- | --- |
| < 2 years | 3,204 | 18 |
| 2 - 4 years | 4,445 | 29 |
| 4 - 7 years | 4,082 | 120 |
| 7 - 9 years | 2,396 | 218 |
| 10 years + | 753 | 213 |
| Total | 14,880 | 598 |
New model for sustaining IT investments
Building a Top Tier technology environment requires more than replacing outdated technology on a set schedule to prevent outages or reduce costs. It requires re-envisioning the way in which technology renewal, expansion, and replacement is implemented and funded. A new model for sustaining IT investments includes:
Technology standards that:

Help UNLV choose technology that works well with existing systems
Enhance service provision by reducing variability
Allow UNLV to broker contracts for preferred vendor pricing
Ensure that new information technology security requirements are addressed

Regular assessments of the overall IT investment to determine:

Identify technologies that need to be decommissioned
Determine when fundamental infrastructure needs to be re-architected
Pursue opportunities for consolidation of technology investments
Determine when to adopt emerging technologies

Funding models that:

Address the shared and unique needs of UNLV's distributed and central IT environments
Optimize technology refresh programs throughout the institution
Anticipate the costs associated with major shifts in the provision of infrastructure services
Account for maintenance and renewal costs of grant-funded equipment used to provide on-going University services
More details about each of the components of the model are provided in Appendix 6B.
Interdependencies with other Plan initiatives
The new model for sustaining IT investments builds upon the foundation established by several IT Master Plan initiatives. Figure 6-2 summarizes the lifecycle of sustaining IT investments and highlights the interdependencies.
Figure 6-2: Role of UNLV IT Master Plan Initiatives in Lifecycle of Sustaining IT Investments"]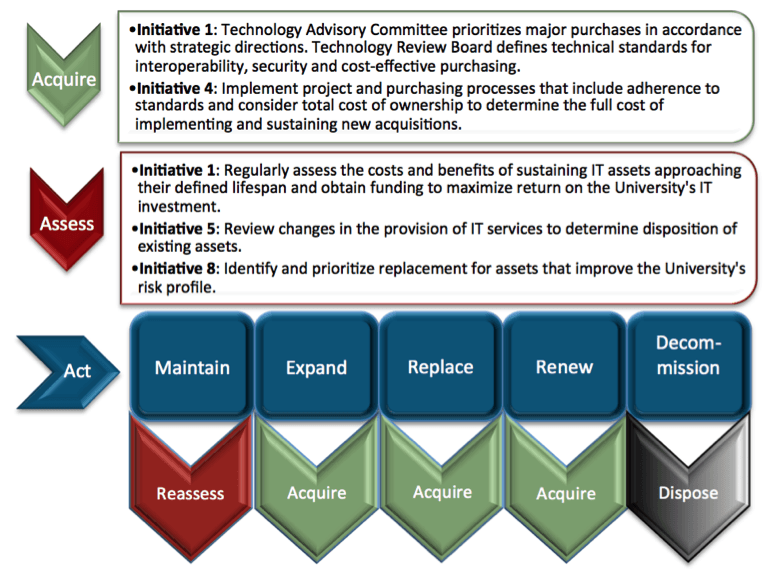 Successful implementation of the initiatives provides a sustainable technology foundation that ensures members of the UNLV community have the secure and reliable technology needed to perform their work.
Maximizing the IT investments at UNLV is one of the major charges of the Technology Advisory Committee (TAC) described in Initiative 1. Creating funding models is part of that charge. The TAC will be assisted in its efforts by the Technology Review Board (TRB).
Initiative Owner
Chief Information Officer
Consultative Role
Technology Advisory Committee
Technology Review Board
Purchasing & Contracts Department
Property Control
Budget Estimate
UNLV must complete the infrastructure re-architecture project approved in 2015 in order to remediate the critical state of network, server/storage, and wireless infrastructure. Approximate costs are $14.5 million one-time over three years. Five-year maintenance costs on infrastructure improvements total $382,924.
New staff resources (3 FTE) will be needed to implement and support the network, data center, and server/storage infrastructure improvements. Annual costs without benefits are approximately $205,000. Appendix 6B includes details of those infrastructure costs and sourcing strategies that could potentially reduce the overall cost.
The IT asset inventory shown in Figure 6-1 includes approximately 16,000 items with an initial purchase price of $38.2 million. Standard refresh cycles vary from three to ten years depending on the type of equipment. An average refresh rate across all types of equipment of six years was used to develop a rough estimate of costs.*
Using a refresh rate of six years for all IT assets, approximately $6.4 million per year would be needed to sustain the current IT investment using standard technology refresh cycles. Though these estimates are approximate, they help convey the scope of the technology refresh challenge at UNLV. An additional $2 million per year beginning in FY18 is included in the Plan budget to begin to address the ongoing need.
The university is likely to continue to use one-time funding to meet the most pressing technology replacement needs. However, a phased approach to securing sustainable funding sources should be developed. Creating optimized technology refresh programs for each type of technology and regularly assessing the state of the overall IT investment for opportunities for decommissioning and consolidating could help maximize the available funds whether they be one-time or recurring. Refer to Section 5 and Appendix D for more considerations on resource options.
New Positions: 3 FTE; Total One-time and Recurring Costs FY16-FY19: $20,578,678
Action Items to Implement Initiative
Provide off campus data center services.
Re-architect the UNLV network for current needs and future growth.
Implement robust infrastructure management tools.
Develop funding models to effectively sustain IT investments.
Implement a technology refresh strategy.
Establish campus technology standards.
Annually assess IT investments to determine when to decommission services, consolidate services, and introduce new technologies.
Annually update policies, procedures, and standards for IT purchases.
Anticipated Benefits
A technology environment optimized to support campus strategic directions.
Increased security, functionality, and reliability of technology as end-of-life equipment is eliminated.
Improved ability to implement new technology services.
Better IT service provision for standardized technology investments.
Cost recovery from decommissioned technology services.
Cost savings and improved service provision through consolidated technology services.
Reduced IT infrastructure complexity through hardware standardization.
Increased compatibility between existing IT systems.
Measures of Success
Predictable funding sources to sustain the campus IT investment.
Reduced costs through adherence to technology standards.
Reduction in the percentage of outdated and at-risk technology on campus.
Reduction in workarounds associated with new technologies not compatible with outdated technology.
Increased percentage of IT acquisitions meeting IT standards and compatible with campus systems.
Contextual Information
Peer Institution Research
Arizona State University (ASU) has a computer and audio-visual refresh program. Computers in student-use areas are included in the refresh program. The program targets open-use computing facilities for students and university classrooms.
IT currently contributes $500,000 annually to the refresh program. The University has instituted a phased program utilizing sources outside of IT to raise the total annual contribution to $1.8 million by year four. A portion of the increased investment will be funded through the Student Technology Fee.
Other relevant research
The following table provides a general overview for consideration, but should be fine-tuned to meet the specific technology needs and requirements of UNLV.
Guide for Considering IT Upgrades, Disposals or Purchases
Asset Category
Asset Type
Refresh Cycle
Computers
Desktop Computers
3-5 years
Laptop Computers
2-3 years
Mobile Devices (iPhone and iPad)
2-3 years
Printers (all multifunction devices)
5-8 years
Thin Clients (Virtual Desktop Infrastructure)
6-8 years
Classroom Equipment
Projectors
4-6 years
Interactive Whiteboards
6-9 years
Network Equipment
Servers
3-5 years
Wireless Access
3-5 years
Security Equipment (NAC, firewalls, and IPS)
3-5 years
VoIP Phones
3-5 years
Data from: Nancy Gunza, "High Tech, High Stakes," Business Officer, September 2012.
---
* The six-year average is based on Federal guidelines of five to ten years for items such as computers, servers, and network switches and two to eight years for items such as printers, projectors, and wireless access points. The six-year average is for cost estimation only. Actual refresh rates depend on type of equipment (see the Contextual Information section).