Initiative 5: IT Service Coordination
Improve the coordination of IT services by developing a University-wide IT Service Portfolio and a University-wide IT Service Catalog to optimize both distributed and centralized technology services.
UNLV's IT services are provided locally by technical staff housed within individual campus units, centrally by the Office of Information Technology (OIT), and in partnership with external providers. A mix of distributed, centralized, and externally provided services is an effective means of meeting both shared and discipline-specific needs of a large, research-intensive university, particularly when the services are well coordinated.
The growing need
During the IT master planning discussions students, faculty, and technology professionals from across campus indicated that they were not aware of the full range of IT services available at UNLV. The participants also expressed a desire to partner more effectively to address the specialized needs of local units through activities such as:
Consolidating software licensing to leverage purchasing options
Facilitating user groups for staff using similar technologies
Bringing together campus units that provide similar services to understand where services overlap, where there are service gaps and what can be done to create more seamless services (e.g., data storage for research faculty)
Top Tier initiatives will increase the number of new faculty and the emphasis on inter-departmental collaboration, heightening the importance of providing a comprehensive picture of all available IT services. Additionally, new instructional technologies, more sophisticated communication tools, technology-based advising approaches, and comprehensive data analytic tools emerging from Retention, Progression, and Completion (RPC) efforts will increase the unique technical expertise needed on campus.
There is a clear and growing need to build stronger collaborations, increase organizational effectiveness, and provide better awareness of available technology resources and services. Recommended changes include:
Providing new leadership and governance within the technology community
Orchestrating activities to create a culture of collaboration
Increasing visibility into available IT services
Introducing new tools to facilitate access to IT services
Leadership and culture
The ability to create and sustain a comprehensive approach to providing the full range of IT services needed at UNLV depends on a commitment by technology groups to work together. Under the leadership of the Chief Information Officer (CIO), the Technology Advisory Committee (TAC) has been charged with optimizing distributed and central IT resources (see Initiatives 1 and 3). The success of the efforts depends on creating and sustaining a culture of transparency and cooperation within the technology service providers on campus and key strategic technology partners from the community.
In the short run, the focus will be on increasing awareness of all available IT services through the development of an IT Service Portfolio and an comprehensive IT Service Catalog. Over time, the efforts will result in new organizational structures and collaborative partnerships designed to:
Leverage support for converged technologies (e.g., hyper-converged IT infrastructure, unified communications)
Reduce duplication of effort
Increase resources available for discipline-specific technology needs
Provide coordinated IT services offered through the collaborative efforts of both distributed and central IT units
Increased visibility and better access to IT services
Current efforts to coordinate IT services are generally informal and are based on relationships between the individuals providing the services. These relationships have served the campus well. However, the university has grown beyond the ability of informal networks to support the complex array of individual and shared IT service needs. The initial effort in improving the coordination of IT services is to increase awareness of what services are currently available and how best to access those services. The development of an IT Services Portfolio is recommended as a best practice for increasing awareness. The creation and maintenance of a comprehensive IT Services Catalog is recommended as a best practice for improving access to needed services. Table 5-1 provides more information about the portfolio and the catalog.
Table 5-1: Features of IT Service Portfolio and IT Service Catalog
IT Service Portfolio
IT Service Catalog
The portfolio provides information about:

Existing services
New services under consideration
Planning details related to service improvement initiatives
Schedules for decommissioning existing services
Interdependencies between complex services

The catalog:

Lists all current services
Enables users to browse, select, and initiate services
Has an external facing presence that describes services intended for customers
Has an internal facing component that helps service providers respond to service requests
Together, the portfolio and the catalog will provide the campus with a clear picture of what IT services exist, what new IT services are being planned, how to access the services, and who is responsible for providing the services.
The IT Service Portfolio
Once developed, the IT Service Portfolio will enable the university to more effectively manage services from conception to retirement. Clarifying the interdependence of complex services will enable service providers to work together to avoid unintended consequences of planned service changes and provide quicker restoration of all services when incidents occur. The IT Service Portfolio will also serve as a reference when making decisions regarding staffing and resource allocation and will act as a baseline for technology governance decisions that relate to technology services.
The IT Service Catalog
Some of the confusion university personnel expressed in finding services and obtaining assistance with existing services is a by-product of UNLV's highly distributed and complex network of IT service providers. A comprehensive catalog must include: localized IT services; campus-wide IT services provided by academic or administrative units; centrally delivered IT services; complex IT services offered through a collaboration of two or more units; and external IT services offered by community partners and brokered through one or more campus units.
Detailed information about the development and maintenance of the IT Service Portfolio and the IT Service Catalog are contained in Appendix 5A.
Optimizing the coordination of IT services
During the process of developing the portfolio and the catalog, information about redundant, overlapping, missing, and outdated services will emerge. In some cases, redundant and overlapping services may be able to be restructured or optimized and any realized gains in existing resources reallocated to fill in gaps. In other cases, new resources will be needed to fill gaps or provide new services. In still other cases, changing campus direction and evolving technology requirements will expedite the decommissioning of existing services.
New governance committees will have to determine how to manage the needs exposed by greater visibility into the IT service environment. Priorities for meeting service gaps will need to be established. New organizational structures and/or collaborations will need to be developed. Resources to meet the identified and anticipated needs will have to be secured. Finally, ongoing assessment is required to ensure that the efforts are: increasing the awareness of available IT services; making it easier to access IT services; and raising the satisfaction with the provision of IT services.
Initiative Owner
Chief Information Officer
Consultative Role
Technology Advisory Committee
Technology Review Board
Distributed IT Staff
Office of Information Technology (OIT)
Budget Estimate
Funding will be needed for technologies and implementation services related to creating and maintaining the IT Service Portfolio and the IT Service Catalog. The costs will depend on which platform the University decides to use for developing and managing the IT Service Portfolio and the IT Service Catalog. For the IT Service Portfolio, it may be possible to use the same application that is selected for the IT Project Portfolio (see Initiative #4). Funds may be needed for the additional licensing that would be required for maintaining two portfolios in the same software. If the IT Project Portfolio tool will not also work for the IT Service Portfolio, the estimate for a tool that would work is about $50,000 annually for a hosted solution.
To help with the development of the IT Service Catalog, many universities have been able to leverage their existing Service Management software application (i.e., the help desk work order management application). If Footprints, the Service Management software application used by several units on campus, has the functionality needed, no software purchase will be necessary. However, some consulting resources to assist UNLV in configuring the existing software for use as an IT Service Catalog may be needed. If Footprints does not have the required functionality, the costs for an IT Service Catalog tool ranges from $50,000 to $100,000 to purchase with annual maintenance at about 20% of the purchase cost. Hardware will also need to be acquired and will cost approximately $11,000 initially and $2,200 annually.
One additional staff member (approximately $60,000 plus benefits) will be required to maintain and expand the IT Service Portfolio and IT Service Catalog.
New Positions: 1 FTE; Total One-time and Recurring Costs FY16-FY19: $598,295
Action Items to Implement Initiative
Develop an inventory of current technology services campus wide.
Develop an inventory of current technology professionals campus wide.
Implement an IT Service Portfolio management tool.
Create the initial IT Service Portfolio.
Implement an IT Service Catalog tool.
Create the initial IT Service Catalog.
Annually review the IT Service Catalog for obsolete services, baseline services, and service gaps.
Publicize the processes for changing the IT Service Portfolio and the IT Service Catalog.
Conduct annual reviews of the portfolio and the catalog.
Anticipated Benefits
Better awareness of and easier access to IT services for all campus constituents.
Higher levels of satisfaction for customers using complex services supported by multiple units on campus.
Clearer accountability for IT service provision due to delineation of services by service owner.
Improved ability to align IT resources to meet changing customer and university needs.
Potential to reallocate resources by reducing duplication of effort.
Measures of Success
Improvements in awareness of IT services.
Improvements in customer knowledge of how to access IT services.
Improved support for complex IT services that cross multiple campus units.
High scores on usability testing of the IT Service Catalog.
IT Service Catalog usage statistics show increased volume of traffic.
Resources reallocate through identification and consolidation of redundant technology services.
Contextual Information
Peer Institution Research
George Mason University (GMU) has a service catalog online. The catalog separates the services by category, examples being "Business Applications" and "IT Security." The category titles are user friendly to allow easy exploration by the end user. Completed about a year ago, the catalog allows users to click tabs to categorize the services by category, alphabetically or by constituent (i.e., students or faculty and staff). Central IT plans to assess the value of the catalog via user feedback in the fall of 2013.
Both GMU and Arizona State University (ASU) have Service Level Agreements in place between central IT and their customers, some of which include "fee for service" agreements such as desktop support, while others were drafted with individual customers for server hosting services.
Other relevant research
The OIT at the University of Minnesota delivers a bundle of "common good services" to all units on campus. Services are funded through an enterprise cost pool paid on a per headcount basis by all units regardless of actual consumption. Representatives from campus units collectively determine the composition of the common good service bundle.
Units fund the common good service bundle based on the opportunity for use rather than metered consumption, providing a stable funding base for the central IT organization and creating a financial incentive for unit adoption. Figure #1 illustrates how the University of Minnesota uses a logical screening process for determining which services are best provisioned by central IT and which services are best provisioned by distributed IT.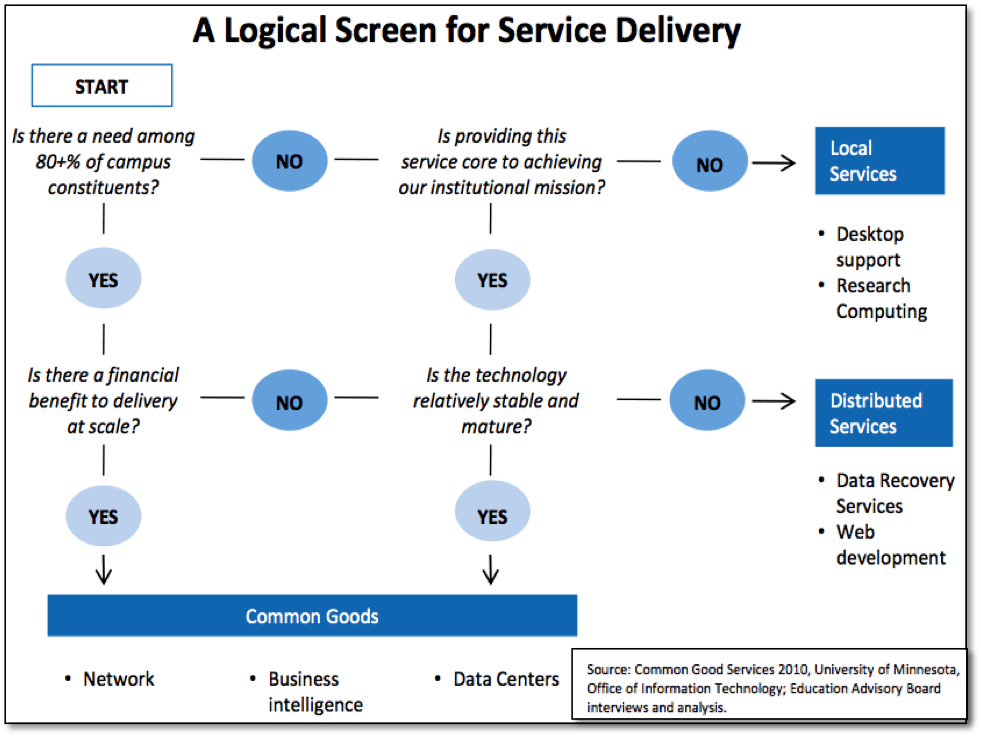 The University of Minnesota offers over 50 Common Good Services and continues to add services to the list. A recent list is contained in Appendix 5B.